ROCKING SCHOOLS
In 2004, Nathan Dillon began teaching rock band classes at the Bank Street School in New York City. After relocating to Chicago in 2008, Nathan took the valuable knowledge he gained there, added his own ideas to the process and started Everybody Rocks at Catherine Cook School in Chicago.
As Everybody Rocks grew, many highly acclaimed schools signed on for after-school rock band class services, such as Nettelhorst Elementary and Ogden International School. Last year saw many Evanston District 65 schools such as Kingsley and Orrington schools became part of our Everybody Rocks community.In addition to amazing schools, we also partner and gain valuable knowledge from some like-minded non-profit organizations here in Chicago.
We would love to add your school to our growing list of Rocking Schools and like-minded organizations. You have already found our website, so get in touch! Find us on Facebook, check out our video tutorials, email or call or text at 312-576-1126. We would love to hear from you!
Catherine Cook School
Catherine Cook holds a special place in our hearts, as it was the first Everybody Rocks after-school program to sign on. Some of our best teachers have benefitted from working in the incredibly nurturing environment that CCS provides. Students are not the only people that benefit educationally from the CCS community: so do teachers! Thanks so much, Ms. Strom, Dr. Roberts, Dr. Robbins, Dr. Pifer, and of course all the parents and teachers at CCS! We love you! CCS feels like home.
To learn more, visit catherinecookschool.org/
Nettelhorst School
Located in the East Lakeview neighborhood of Chicago, Nettelhorst is a shining example of what a community school can become: after years of neglect, dedicated parents, students, teachers and staff turned Nettelhorst into one of the top schools in the city. Jane Cornett runs the after-school program at Nettelhorst, "Jane's Place" and does a terrific job. Nettelhorst's turnaround is the subject of numerous articles as well as the book "How to Walk to School" By Jacqueline Edelberg & Susan Kurland.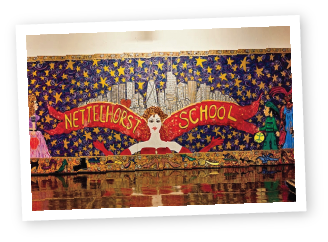 To learn more, visit www.nettelhorst.org/
To learn more about the book visit howtowalktoschool.com/about/
Lincolnwood Elementary
Lincolnwood was the first school to sign on for Everybody Rocks classes in Evanston. Many thanks for helping us grow in District 65! Lincolnwood provides a safe educational environment dedicated to developing the potential of each individual child, encouraging community awareness, and stressing the importance of academic excellence.
To learn more please visit lincolnwood.district65.net/
Ogden International School
Ogden is a vibrant learning institution that brings students from all backgrounds together to create a nurturing and engaging environment. We have had the good fortune of working with both the middle/high school and the elementary school. Special thanks to Mr Staral, Ms. Gray, Mr. Pietrini and Mr. Ribaudo for all your help.
To learn more about Ogden, visit www.cps.edu/
St. Robert Bellarmine Academy
St. Robert Bellarmine School our very first Catholic School to sign on for classes. We are so grateful to everyone at SRB, especially Ms Mijal, the Principal. She is always there for her students and is amazing to work with. Thanks so much!
To learn more, visit: srb-chicago.org/.
John Hay Community Academy
John Hay Community Academy is an elementary school located in the historic Austin neighborhood. Hay Academy has a dynamic teaching staff, vibrant student body, and strong community partnerships. We are very excited about our data-driven instruction, commitment to the arts, and health and wellness, as well as our phenomenal after school programming. John Hay and Everybody Rocks partners with Hull House in order to bring great music education to John Hay after-school programming. Thanks to everybody who helps at Hay and Hull House!
Learn more here: cps.edu/Schools/Pages/
Kingsley Elementary
Kingsley Elementary is dedicated to providing a safe and caring educational environment that fosters total-child development. They believe each person who comes in contact with a Kingsley student becomes part of the Kingsley Community; and as a member of that community is responsible for the well being of our students. The parents dedicated to after-school enrichment at Kingsley work hard at creating a nurturing environment for students that is also robust and user friendly for parents.
To learn more about Kingsley please visit kingsley.district65.net/
Willard Elementary School
Willard is one of our more recent schools and man are those kids excited about music! Thanks so much to the PTA, parents and students for making our first year at Willard a special one. The school's focus is on providing "the Whole Child" a welcoming and engaging learning environment while celebrating individual differences and interconnectedness as a school community.
To learn more please visit: willard.district65.net/
Orrington Elementary
Orrington School in Evanston is a wonderful school that signed on with Everybody Rocks in the spring of 2011. We are very excited to be a part of the Orrington learning community. Everybody is working so hard to bring the best educational opportunities to Orrington and we are happy to be a part of the team.
To learn more please visit orrington.district65.net/
Dawes Elementary
Dawes Elementary is one of our newest members to the Everybody Rocks community, signing on in the spring of 2011. We will strive to help create an evolving and engaging musical experience for your students, adding to the amazing work already being done at Dawes. This is truly a community school with families, staff, teachers, volunteers and students creating a vibrant learning environment.
Learn more about Dawes here: dawes.district65.net/
Special Shout Outs to Rocking Organizations!
Some wonderful and like-minded organizations have lent expertise, shared teachers, and been wonderful people with whom to work. Thank you so much!
We would love to hear from more like-minded organizations any time. Visit our website, find us on Facebook, check out our video tutorials, email us, or call 312-576-1126. We would love to hear from you!
Old Town School of Folk Music
Nathan Dillon, the Director of Everybody Rocks also works at the Old Town School of Folk music, teaching Wiggleworms classes, and teaching guitar through the Outreach Program. The Old Town School needs no introduction, as they are one of the dominant educational and cultural institutions in this part of the country. Nathan has had the great good fortune of working closely with several amazing people there including Robert Tenges, Erin Flynn, and Melissa Mallinson. OTS is truly a top-notch organization that does more for this city than most people could know, even with its fine reputation. Thank you for sharing information, teachers, and being a great place!
If you have never visited you should. The OTS website is oldtownschool.org/ and please donate.
Rock For Kids
What a great organization! Rock For Kids provides students with musical education where none would be possible without them. They do amazing work. Maria Mowbry and everybody there have been so kind and free with valuable information. They have also shared incredibly talented teachers with Everybody Rocks and even donated instruments to schools through Everybody Rocks! Thanks so much for being a fount of information, ideas, instruments and great teachers! Everybody should check out their auctions that raise money for the great work they do.
Visit Rock for Kids to learn more and donate.